AFRICA IN MY SOUL
Memoir of a Childhood Interrupted
Cheryl King Duvall, PhD is a psychologist degreed from Georgia State University in Atlanta, Georgia. She has over fourteen years' experience teaching at the undergraduate, graduate, executive, and online levels of education.
Specializing in organizational behavior, Cheryl has focused her research on designing organizations that will assure the success of human performance in the workplace. Along this line, Cheryl has published in seven peer-reviewed journals, one textbook case study, and seven papers which were used in peer-reviewed conference proceedings.
After graduation, Cheryl began consulting with Fortune 500 companies in organization design, and redesign; and she did both consulting and implementation of personnel selection and hiring systems. She focused on setting up organizational environments of "Assuring Individual Success" versus "Preventing Individual Failure" and how those two managerial values play out in day-to-day decision making.
When the flight attendants started calling her by her first name as she arrived on the plane, Cheryl realized she was probably doing too much traveling and consulting, so she started teaching at a private university in Atlanta and spending more time at home with her family. She became an associate professor of management and a department chair. After fifteen years of consulting followed by almost fourteen years of teaching, Cheryl retired from the corporate and teaching worlds to do what her heart had always wanted to do—work with children living with autism and other special needs.
Cheryl is an accomplished quilter and an avid hiker. She has climbed Mt. Whitney, the highest point in the continental US, and Mt. Chirripó, the highest point in Costa Rico. The next mountain on her list is Mt. Kilimanjaro, the highest point in Africa. She also wants to finish hiking the Appalachian Trail. She has currently hiked from Springer Mountain to the Smoky Mountains in North Carolina. She knows she could not have accomplished any of this without the encouragement and help of her loving and constant support team—her beloved husband of over 40 years, two loving sons, her daughter-in-law, and two precious grandsons whom she adores.
Wow! Very, very impressive. So nicely written. The Author's love and compassion for Africa is exciting, new, terrific. Some of the scenes are painfully and fantastically depicted – truly great. The author's love for her family is palpable and all the more painful because it's a counterweight to her loneliness and anger, intensifying them, making the book more powerful for the reader. This one is truly good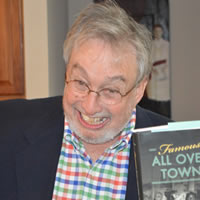 – Bernie Schein, Author of If Haulden Caulfield Were in My Classroom, Famous All Over Town, and Pat Conroy: Our Lifelong Friendship